Griddle and grill are different modern cooking appliances. Now life is developing in every aspect of life, our lifestyle, clothing, and even our cooking style. We use a variety of cookware and a vast range of electric cooking equipment. Use of modern grills and griddles are different cooking surfaces that use different types of food.
You know there is no comparison between sitting around the fire and cooking your favorite foods. The smell of the smoke, the crackle of the fire, cooking our favorite food under the stars, telling stories, and reminiscing with family and friends is a lovely lifetime. But we use different kinds of cooking surfaces for different kinds of food. So we discuss here the difference between Griddle Vs. Grill, because different types of food, require different techniques.
Blackstone Griddle vs Grill
Most of us use the relevant cooking surface for Night's steak and this morning's Pancakes. But, first of all, do you have to know the difference between a grill and a griddle? So be ready to know some interesting facts about griddles and grills, their differences, and why they're suitable for cooking different foods. But first, we will tell you separately about the griddle and grill. And we try to find the answer to different questions.
What are they?
How can we use them?
What is the difference between them?
Are they have benefits to our cooking?
What is a Griddle?
The griddle is flat and smooth, with the heat up directly underneath like a hotplate-type surface. You can cook directly on it such as Eggs, diced veg, and rice. In easy words, it's much like a big frying pan without a handle or sides. Most of these griddles (hot plates) are round and rectangular. Depending on outdoor or indoor use and home or commercial cooking, these are available in different sizes.
If you want to use it for restaurant purposes, select a large size, and for home use, a small size is best and fits into the center of a range top, between the burners. You can also simplify it by that a griddle is a flat metal cooking surface heated from underneath like a big square frying pan.
Types of griddle
Griddles come in various shapes and sizes, and it is easy to find a model that suits almost any cooking setup. Here give you a quick eye at some types of griddles.
Freestanding griddles
Freestanding griddles come with attachments to their stand and cart and are an excellent choice for you, the best flat cooking space in your backyard. Most freestanding griddles are gas-powered and have multiple burners below the steel cooking surface. Depending on the model, they also have expectations of more effortless movement, easy-clean grease traps, and folding side tables for help in your cooking preparation.
Blackstone 4 Burner Restaurant Grade Professional 36″ Outdoor Griddle
Brand: Blackstone
Material: Alloy Steel
Item Dimensions: LxWxH 62.5 x 22 x 36 inches
Item Weight: 120 Pounds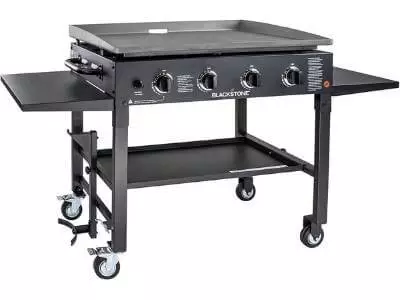 Blackstone has improved the grease management unit. It will replace your grill or BBQ with a Blackstone griddle. It is simple, easy to assemble, and has an easy start with battery-powered push-button ignition. You can use it. With the simple push of a button, your griddle is ready to cooking and spends more time enjoying the outdoors. The griddle is best for breakfast, lunch, and dinner. Cook eggs, quesadillas, grilled cheese, pancakes, steak, Potatoes, Teppanyaki-style foods, and more. Also, you can make fried rice on a Blackstone griddle very tasty
Also, four independently controlled 15 000 BTU stainless Steel burners make 60 000 BTUs low to high for stylish cooking options. Propane fueled by a standard 20lb tank with accommodating tank storage tucked nicely under the left side shelf. Durability and longevity, Super simple to clean, making post-meal cleanup a breeze.
Tabletop griddles
It is the same as a hot plate, tabletop griddles are small in size, but the cooking surface is portable to take with you when camping or cooking. Also, best for kitchen use to cook up a great breakfast. Usually an addition to a BBQ, an insert griddle is a flat square cooking surface that can be fitted over a heating element to turn it into a griddle.
Royal Gourmet Portable Table Top Gas Griddle
Brand: Royal Gourmet
Material: Stainless Steel
Item Dimensions: LxWxH 25 x 16.3 x 7.9 inches
Item Weight: 20 Pounds
The tabletop has sturdy feet for enhanced stability and is perfect for small outdoor cooking events, like camping and tailgating, fueled by a 20 lb. propane tank. They ensure fast and even heating, and you can adjust the temperature as you wish from low to high. Very easy to assemble, so you'll start your cooking journey in no time. Further, it has a removable, slide-out grease cup that collects oil residue while cooking and is very easy to clean up after use. The griddle top is also detachable for washing.
What type of food do you cook on a griddle?
The griddles provide consistent heat across a large, flat cooking surface, so it is considered best for cooking foods that you can not cook on a traditional BBQ or grill.
Eggs, pancakes, rice dishes, and fajitas are great delicious foods that you can only cook on surfaces with no holes.
The griddle is traditionally used to make a fried breakfast with your favorites such as fried eggs, hashbrowns, tomatoes, bacon, and sausages.
The high heat of the griddle makes it perfect for mimicking a wok and can Mexican food, so best for Japanese and Korean cuisines.
Excellent for traditional BBQ foods like steak, hot dogs, burgers, and chicken will all cook perfectly on a griddle.
What is a Grill?
A grill gives your BBQ' food that looks wonderful, tasty, and Dark, stamped onto your food and adds a delicious flavor smoke to your favorite foods. There are different types of Grills, and the open-type grill is mainly used for barbecue grills. The solid iron or steel plate with ridges and other bars holds the food directly over the open flame. So you can cook chicken breast, vegetable skewers, and veggie burgers on a flaming gas grill.
Portable pellet grills
The portable pellet grills are compact, durable, and lightweight, have excellent grilling performance and are affordable price points; the best portable pellet grills are the most versatile.
Solid steel Grills
Solid grills have rows of rods that transfer heat into the food while simultaneously allowing the extra oil to drip down from the food into the pan below the rods.
Yakitori grills
The Yakitori grills are traditional Japanese street food grilled on skewers of different parts of chicken pieces. An authentic Yakitori style is to roast on low heat.
Open grills
The open grills are placed directly over an open flame. The heat creates grill marks on the food. The metal heats and blackens the food, which is delicious if you use an outdoor open fire; excess oil and grease drip onto the flames below.
All grills make lots of heat and smoke. Therefore, using it indoors requires a ventilation system overhead to pull the smoke outside. Grill food has a delicious taste, with grill marks bars. Make the food brown, which is called the Maillard reaction, caused by the sugars becoming caramelized from the heat.
The Benefits Of a Griddle Over a Grill
There are many benefits to having a griddle. This appliance is lovely if you love cooking, trying new recipes in your kitchen, and trying new cooking methods. Because You can cook more foods quicker on a griddle than on a grill, another benefit is that Anything you cook on a wok can successfully cook on a griddle. For fun lovers who want to make traditional food like steaks, burgers, hot dogs, and chicken, cook, then you have a griddle.
You can easily clean your griddle than a grill. So You need only warm water and a flat scraper to clean a griddle, whereas you need a stiff brush, soapy water, and elbow grease to clean a grill. A portable griddle pan can be used anywhere, both indoors and outdoors.
Know the Difference Between a Griddle and Grill?
The main difference between griddles and a grill is that griddles have smooth, flat surfaces. At the same time, grills have distinctively raised bars with openings in between, allowing food to cook directly over the heat source. The heat source is gas, charcoal, or electricity for griddles or grills.
Griddles transfer heat from the entire metal surface to the food evenly. On the other hand, grills bra provide heat unevenly. Grilling needs higher temperatures than griddles for cooking. The grills are best at heating up to around 400°F, while griddles work on low heat.
What are the Cooking Temperatures of the Griddle Vs Grill?
The cooking temperatures are the most significant differences between a griddle and a grill. Grills need at least 400 °F or more higher temperatures for cooking.
Because grills give off more smoke and heat, they need a commercial hood ventilating system. In contrast, griddles work their magic around 350 °F. These are a little safer since the food is not in direct contact with open flames, so there is no chance of a flash.
The Bottom Line Of Griddle Vs. Grill?
The grill is a fantastic cooking tool and, over an open flame, produces tasty, flavorsome food. But allow you limited cooking, that food cook directly over it. Indoor grills are available; you have to purchase additional equipment with limited use.
On the other hand, a griddle is perfect for indoor or outdoor cooking. A stovetop griddle or tabletop griddle can be easily used in a kitchen and stored in a cabinet or a large drawer. An electric griddle can be left out on a kitchen countertop. A portable griddle is very handy; you can cook Anything anywhere. A griddle gives consistent heat to a flat area to cook your foods that can not be cooked on a grill surface.
You Can Read Related Post:
How To Clean A Blackstone Griddle?