The Smokey flavor enhances the bbq rubbed salmon to perfection. If you want deeper flavor, you must marinate rubbed salmon overnight after applying the rub and leave salmon for 30 minutes before grilling and smoking in your pellet smoker. You can give them the smoky-sweet spice blend that hits all the senses on this salmon. You can also use a pinch of cayenne to give it a spicy taste, but it is optional.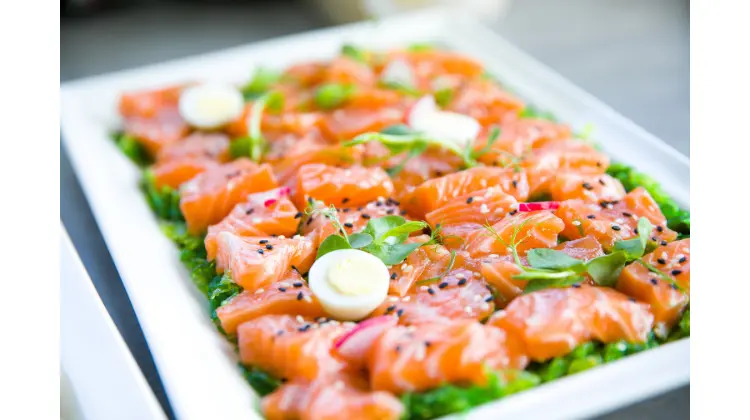 How to BBQ the rubbed Salmon
It is very easy to BBQ with rub when you start the process with a coal chimney starter, and red hot coal is ready to drop into your BBQ grill. Salmon is flavorful and full of healthy fats. Its natural oils work to enhance the intensity of any seasonings you add.
The sweet and spicy salmon rub boosts grilled fish by using a spice rack that you already have. The easy addition of pepper to taste makes the main dish a flavorful homemade version of Cajun salmon. The salmon rub will highlight the fish without adding any fat. You can also add a touch of butter, flavored olive oil, honey, and citrus.
A compound of butter made with garlic and fresh herbs will offer the fish a sophisticated richness for those who want something more subtle. You can also take this spicy salmon recipe in new directions for success. We can serve it with a yogurt-based cilantro-lime dressing and turn it into Southwestern salmon. For its topping, use a citrus yogurt sauce with lots of fresh cilantro and lemon juice.
How To Stop The bbq rubbed salmon sticking to the Grill?
Always put the salmon on the grill from skin side down and do not turn it. Instead, close the lid of your BBQ and allow the circulation of heat and smoke to cook the salmon evenly. But it is an important note to remember that fish will continue to cook once taken off the heat for a few more minutes.
Grill only the skin side but ensure the grill and the salmon skin have been generously oiled to prevent sticking and the fish from breaking apart. You can cook directly on the bbq rubbed salmon grill plate or place the fish on a separate rack for easier removal.
BBQ Rubbed Salmon recipe
Ingredients
SCALE 1x2x3x
BBQ Rubbed Salmon
1 kg whole salmon fillet, skin on
Oil for cooking
Spice Rub
Smoked paprika
Ground cumin
Ground coriander
Crushed fennel seeds
Garlic powder
Chilli powder
Sumac
Sea salt
Olive oil
How to make it?
Combine all rub ingredients. Now place your salmon in a tray and evenly rub the spice mix. Cover the tray with cling film to enhance the flavor, but remember that the film does not touch the salmon and marinate overnight.
If you want to save time, marinate for 30 minutes and rub the salmon with the spice before cooking. Before putting it on the grill, check that the coal should not glowing red but white and covered with grey ash.
Now Brush oil on the grill plate and the salmon skin. It will stop it from sticking. Put salmon skin side down on coal and close BBQ grill lid. The bbq rubbed salmon will cook within 10 minutes.
But never turn the salmon at any point. Let the fish cook for a few more minutes after off the heat. Serve it with Charred Green Feta Sauce or any your favorite sauce.
Nutrition value
Servings: 370 Calories per serving, Total Fat: 23g, Saturated Fat: 5g, Cholesterol: 95mg, Sodium: 400mg, Carbohydrates: 5g, Dietary Fiber: 1g, Sugars: 3g, Protein: 35g. More Values, Vitamin A 10%, Vitamin C 10% to 4%, Iron 4% to 2%