The smoked chicken breast recipe is a wonderfully juicy, boneless chicken breast that is best for multiple occasions and parties. You can say that it is an excellent meal for your busy days because it gets ready fastly. You have to just some Chicken Seasoning and the perfect chicken breast. The most popular protein everyone likes is chicken, especially chicken breast.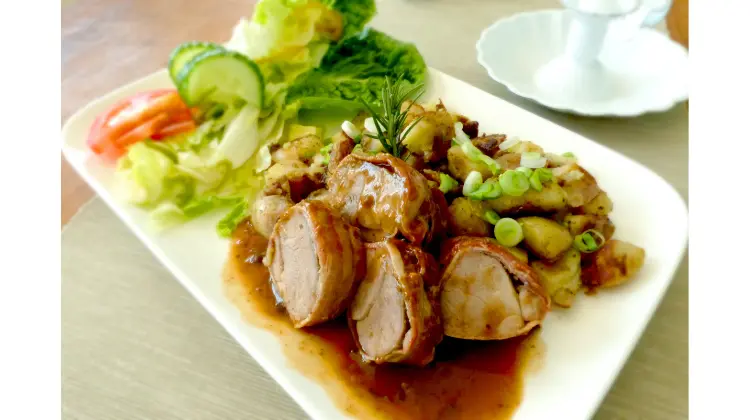 If you think there is no significant difference between smoking and baking, you put the chicken into the oven for an hour, and it is ready to eat.`But if you do it properly, smoked and baked chicken taste different. I tried a taste of both and found the taste of smoked chicken. The pellet smoker makes the smoked chicken breast full of flavor and smoke infused into it.
You can make the juicy, tender, smoky chicken and Use it in salads, sandwiches, wraps, tacos, or as a simple protein for dinner. You can season your chicken breast with a simple homemade chicken rub, easily making this smoker recipe perfectly on the pellet grill.
Smoked Chicken Breast
I love Smoked boneless chicken breast because it's the perfect protein for a meal. You can buy some fresh boneless chicken breasts. These guys are inexpensive at the store; you can smoke them right out of the package. But some of you like chicken breast when it has brine. You need 4 hours to brine your chicken before sticking it on your smoker.
You can also get extra tasty by infusing the tender meat with a hint of smoke, depending on how much you want to make your boneless chicken breast smoky. If you use an excellent smoking meat thermometer and cook at the right temperature, your chicken will be juicy and full of flavor without needing to brine it first.
Smoked Boneless Chicken Breast ingredients
Raw chicken breasts, get chicken that is all uniform in size so it cooks evenly.
Mustard is an excellent ingredient because it works as "glue" to help keep the chicken seasoning and provide a tangy touch of flavor.
Seasoning mix on a baking sheet
Brown sugar
Paprika
Garlic powder
Onion powder
Salt
Pepper
Recipe
First, prepare the smoker because it takes time to preheat and prep the chicken. Set your smoker and preheat it to 225°. Now raw chicken breasts rubbed with mustard and seasoning mix. While the smoker is preheating, rub each chicken breast with mustard and season them generously on each side. Place the seasoned raw chicken breasts on a wire rack. Insert a digital meat thermometer probe into the center of the thickest part of the chicken breast, through the side, to track internal temperature.
Put chicken breasts on the smoker when preheated and close the lid immediately. Smoke the chicken breast until it reaches 160° and takes it off the grill. Tent the chicken loosely with a sheet of aluminum foil and let it rest for 5-10 minutes.
Servings
Chicken breast is exceptionally versatile. Because it is best to serve as an easy dinner protein or for quick lunch and other recipes like sandwiches and salads, you can serve it with smoked mac and cheese or top off a rice bowl with some beans, corn, and veggies.
Storing and Reheating
You can store leftover smoked chicken breasts in an air-tight lid container in your refrigerator for up to 4 days. Suppose you want to freeze the chicken to extend its life and make your meal prep easy later. But keep in mind that the chicken cools to room temperature before freezing. Place smoked chicken breasts into a freezer in a zip-top bag without air. You can Freeze smoked chicken for up to 3 months.
Nutrition value
Calories: 352kca l| Carbohydrates: 23g | Protein: 49g | Fat: 7g | Saturated Fat: 1g | Trans Fat: 1g | Cholesterol: 145mg | Sodium: 2080mg | Potassium: 988mg | Fiber: 2g | Sugar: 18g | Vitamin A: 1737IU | Vitamin C: 3mg | Calcium: 46mg | Iron: 2mg
FAQS
How Long to Smoke Chicken Breast?
Smoking chicken breast takes approximately cook in 1 hour. As always, use a good meat thermometer; you can track the correct temperature of your meat throughout the smoking process.
Which wood chips are best for smoking chicken breasts?
You can smoke the chicken with any wood chips. For mild and fruity, you can use apple, maple, or cherry, or make it strong like hickory or Jack Daniels blend and mesquite wood that is very strong and quite powerful.
What temperature to smoke chicken?
Smoking everything at 225° is the standard temperature.
How long do you smoke chicken breast and get ready?
The right time depends on your method and the thickness of the chicken. But the average time is 1.5 to 2 hours.
How can I know that the chicken is done?
The internal temperature of the meat is the best indicator to tell you that your meat is done and done at 165° internal temperature.
Read Related Post:
How Long To Boil Chicken Thighs?
Smoked Boneless Chicken Thighs Recipe
Frozen Chicken Legs In The Air Fryer