The smoked boneless chicken thighs are so tender with a simple but delicious rubbing, and these are also loaded with flavor. You can make Smoked chicken thighs in a pellet grill that are incredibly juicy and flavorful. Smoking chicken thighs are ready in little time; afterward, they are so tender that you can easily cut them with a fork.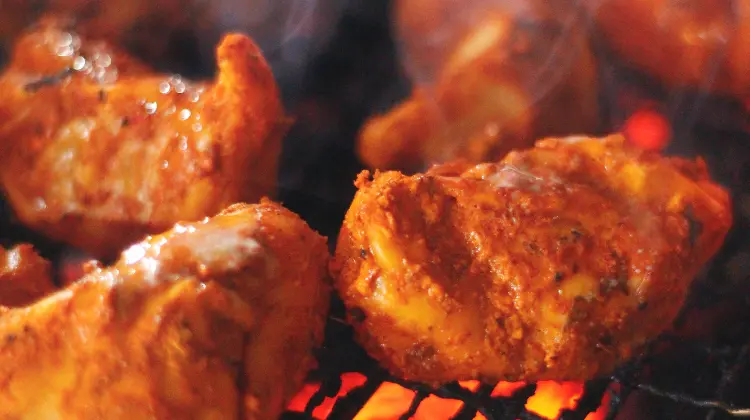 You have eaten different chicken recipes, such as smoked chicken breast. All these are delicious with smoke flavor, but smoked chicken thigh takes only 10 minutes of prep time, making your weeknight meal perfect. These are perfect cooks in pellet smokers, and everyone loves their excellent taste.
Why is smoking chicken thighs a favorite of everyone?
Recipe of smoked chicken thighs
These smoked chicken thighs are the best way to enjoy delicious chicken smoked at your barbecue party. You season salty and sweet rub, smoked to perfection, then for enhancing your flavor, eat them slathered in whiskey peach BBQ sauce. You can cook on low heat for 30 minutes without increasing the temperature and get a subtle smoke flavor but tender chicken.
Ingredient
Chicken thighs boneless, skinless chicken thighs
1. teaspoon of baking powder to crisp up the skin
Spices
BBQ sauce
2 tsp. brown sugar
2 tsp. paprika
1 tsp. kosher salt
1 tsp. Garlic powder
½ tsp. onion powder
How to make Smoked Boneless Chicken Thighs
Preheat, your smoker to 275 degrees F.Smoking skin-on chicken at a lower temperature.
Put the boneless chicken thighs in a bowl after trimming off any excess skin or extra thin chicken around the edges of the bone.
Roll your chicken evenly tight into species.
Drizzle on all sides with olive oil, which helps to keep the skin moist during smoking.
Grab some sweet rub seasoning. Keep in mind that the season covers entirely the chicken thighs on all sides.
Now, these are ready for placing in the smoker skin side up. Close the lid. Cook the thighs until the internal temperature, and check the temp with a meat thermometer. And cook it for 45 to 75 minutes to reach this target temperature.
Bast with Whiskey Peach BBQ Sauce. You can also use your favorite BBQ sauce with different flavors.
Smoke the chicken thighs at 170-175 degrees F.
If the chicken thighs look good at the right temperature, remove them from the smoker.
Rest for 5-10 minutes, then serve hot with your favorite sauce or salad.
Tips For Recipe
Use apple, cherry, or maple pellets for smoking. They smoke the chicken perfectly.
Smoke for a max of 30 minutes before increasing the temperature. The chicken will be overloaded with smoke flavor if you smoke too long.
Keep the chicken rest for 5 minutes before slicing, which keep juices inside.
Finish smoked boneless chicken thighs on wood board.
For smoking meat on the smoker, use a digital meat thermometer to keep an eye on the temperature of the meat.
If the chicken sits on the smoker for a long time, it will get dry and rubbery skin.
Check and ensure before smoking that the smoker is correctly preheated.
You can use smoke chicken thighs with the skin on.
In the last few minutes, Brush on your favorite sauce or cook time for bbq chicken thighs.
Leftover smoked chicken thighs
Keep in the refrigerator in an airtight container for up to 3 days the Leftover smoked chicken thighs in your Freezer. If you have lots of leftovers, keep the meat in a Zip bag and pop it in the freezer for meals, lunches, and school. You can store them in for up to 2 months in the freezer.
What Can You serve with smoked chicken thighs?
You can serve these smoked boneless skinless chicken thighs with your favorite sides.
Smoked Corn on the Cob
Instant Pot Rice
Carrot Salad
Air Fryer Sweet Potato Fries
Oven-Roasted Potatoes
Ultra Crispy Air Fryer Potatoes
Nutrition Value of boneless smoked chicken thighs
Calories: 193kcal | Carbohydrates: 1.1g | Protein: 22g | Fat: 11.5g | Saturated Fat: 2g | Cholesterol: 95mg | Sodium: 176mg | Potassium: 6mg | Fiber: 0.1g | Sugar: 0.6g | Calcium: 21mg | Iron: 1mg
FAQs
Can you Use Skin-on Chicken Thighs?
Yes. The skin on chicken thighs will make it more crispy.1 teaspoon of baking powder mixed with the spice, making it crisp up the skin.
How Long Do you Cook the Chicken?
In the first part, marinate the chicken before smoking. You can cook it for about 1 to 1 ½ hours, depending on the chicken size.
On Which point is the Chicken Done?
When the temperature reaches 165°F, and you cut into the chicken and the juices run clear, and there is no pink, it is ready.
Can it smoke Slowly?
You can smoke it slowly but keep in mind do not increase the temperature from 200°F to 250°F. If you smoke too long at 200, it will be overly smoky.
Read Related Post:
How Long To Boil Chicken Thighs?
Smoked Boneless Chicken Breast Recipe
Frozen Chicken Legs In The Air Fryer