Grills play an important role in grilling many things like fish, meat, chicken, and other dishes. So having the best grill is very helpful to you, especially if it is under 500 if you have been looking for a new and perfect grill for your kitchen, which is maybe not too big for those background gatherings, but it does not cost so much. If yes, this article will help you because we will discuss the best grills under 500.
In this article, we will delve into the essential characteristics and elements that one must take into account when purchasing a new grill, with a focus on quality. Furthermore, we will examine the various kinds of gas grills that are not recommended. We are also trying to describe the best grills under 500 currently available in the market with the latest features.
Gas vs charcoal grill
Compared to charcoal grills, gas grills offer several benefits, such as rapid heat-up time akin to a typical stove at home and impart a smoky taste through vaporized drippings. While numerous grill types are available in the market at an affordable cost, selecting the optimal option that aligns with your budget and requirements is paramount.
You should explore a diverse selection of grills priced at or below $500, featuring robust constructions and an abundance of sizes and models that cater to your specific needs. So if you want the best gas grills under $500, this article will help, so let's discuss each grill in detail and its features.
Best Gas Grill For Beginners
1. Char-Broil 463377319 Performance 4-Burner Cart Style Liquid Propane Gas Grill
The Charbroil Propane Gas Grill features a durable stainless steel construction with a cart-style design containing four burners, providing long-lasting performance. Charbroil's position as America's favorite grill brand is well-earned, as this grill presents many features in a stylish and practical package.
This exceptional grill affords ample cooking space to accommodate both small and large gatherings, with its 85-pound weight and 50.4×24.5×45 inches dimensions, including a cooking surface measuring 23 inches by 18.5 inches deep, capable of grilling up to 20 burgers simultaneously.
The four top burners, made of stainless steel, offer superior temperature control and longevity. Additionally, the Charbroil grill has a lidded side burner for preparing sauces while grilling. The removable porcelain-coated grates are another noteworthy feature, as they are both rust-free and easy to clean.
Pros
Easy to clean
Temperature control
Durable
2. Weber 49010001 Spirit II E-310 3-Burner Natural Gas Grill
The natural burner gas grill is a specific type of grill that requires natural gas plumbing in the home. If this is not an option, then alternative options, such as charcoal or propane grills, may be necessary. The grill comes with a 100% Weber guarantee, a 10-foot flexible hose, and a 42-inch left table down the width for additional workspace.
The grill utilizes burners that provide ample gas flow throughout the unit, resulting in precise cooking, and it boasts an impressive 10-year warranty. Porcelain-enameled cast-iron grates are featured, providing ideal cooking surfaces for delicate food such as fish and meat and infusing a smoky flavor.
The grill's folding ability is a standout feature, allowing the left side table to be collapsed, maximizing space in smaller balconies or other limited areas. The Gs4 grilling system, six tool hooks, and two large wheels are additional highlights of this grill, which measures 44.5H×52W×27D and provides 529 square inches of cooking space.
Pros
Good heat distribution
Temperature control
Easy to clean
3. Weber 46110001 Spirit E-210 Gas Grill Liquid Propane, 2-Burner
The Weber Spirit E-210 gas grill is a compact and convenient option for small patios or balconies. Its porcelain-coated cast-iron cooking grates ensure even cooking and a smoky flavor. Additionally, the grill features an electronic ignition system and stainless steel side tables, providing easy access to tools and extra space for food prep.
Cleaning and maintaining the grill is a breeze with six tool hooks and rust-proof construction. The Weber Spirit E-210 gas grill offers 450 square inches of cooking area and weighs 20 pounds with 32×50×63 inches dimensions. It has heavy-duty caster wheels that make it easy to move and comes equipped with 2 burners. It has a temperature control system, ensuring an excellent grilling experience.
Pros
Temperature control
Easy to clean
Easy to use
Cons
Difficult to mantle and dismantle
4. Black stone Flat Top Gas Grill Griddle 2 Burner Propane
The Blackstone best gas grill for Beginners is a top-rated option with a 2-burner propane system and a rear grease management mechanism. Ideal for a variety of meals, this grill allows for the cooking of eggs, pancakes, grilled cheese, potatoes, and steaks. The Blackstone griddle is simple to operate and features a battery button ignition, adjustable heat zones for even cooking, and a warming option.
This grill is designed for family use with 2 separate cooking chambers. The Blackstone grill is also portable, with 4 wheels for easy transportation and casters that lock in place for stability. This grill is versatile and convenient, with dimensions of 44.5 x 19.5 x 33.5 inches and a weight of 69 pounds.
Pros
Versatile
Heat distribution
Portable
Durable
Cons
The grease trap is very flawed.
5. Cuisinart-7400 Propane, 54 Inch, Full-Size Four-Burner Gas Grill
The Cuisinart CGG-7400 propane grill features a 54-inch design with dimensions of 28.9 x 23.4 x 20.4 inches and 72 pounds. Its cooking surface area spans 443 square inches, with an additional 167 square inches dedicated to warming.
Heavy-duty cast iron cooking grates ensure optimal heat distribution and a 3-year limited warranty provides peace of mind for the avid griller. With four burners and a capacity for maximum heat control, the Cuisinart grill is an excellent choice for those passionate about outdoor cooking.
Pros
Good heat output
Easy to clean
Durable
Easy to use
6. LITTLE GRIDDLE griddle-Q GQ230 100% Stainless Steel Professional Gas, Grill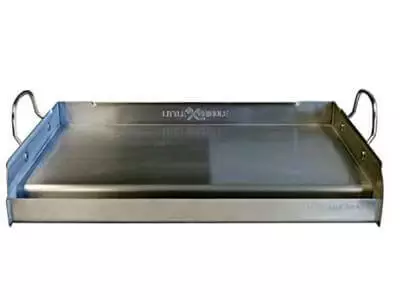 The LITTLE GRIDDLE is a top-of-the-line, 100% stainless steel grill that boasts an even heat cross and removable charcoal grill. With dimensions of 25″ x 16″ x 6.5″ and a weight of 14.5 pounds, it is the perfect choice for both indoor and outdoor cooking. The GQ230 offers a spacious cooking area, allowing for the preparation of many delicious meals, including perfect BBQ.
Moreover, this BBQ Grill is highly functional and one of the safest outdoor cooking materials available. Additional features, such as 2-inch sidewalls that keep food secure and removable handles for easy transport, make it an even more practical choice. This professional-grade grill has a lifetime warranty and can cook eggs, meat, sandwiches, fish, and much more.
Pros
Good heat distribution
Easy to clean
Durable
Flavor
7. Char-Broil Classic 360 3-Burner Liquid Propane Gas Grill with Side Burner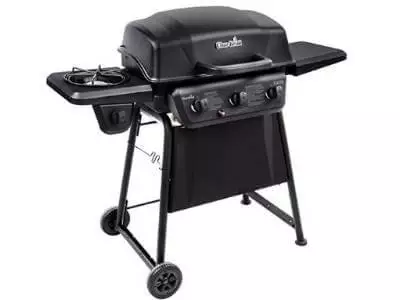 The Charbroil Classic 3-burner propane gas grill, complete with a side burner, weighs 80 pounds and measures 24.1 inches in depth, 51.2 inches in width, and 43.5 inches in height. It provides 30,000 BTUs of heat throughout the cooking surface and an additional 8,000 BTUs from the side burner, making it an ideal choice for all barbecue enthusiasts.
This grill boasts porcelain-coated grates to prevent food from sticking, making it easy to clean. Its six wheels allow easy mobility, while the two fixed legs provide stability. The stainless steel burners are durable, allowing long-lasting performance and offering excellent high and low heat control. Notably, this grill also features a piezo ignition system for quick and easy startup with the push of a button.
Pros
Easy to clean
Value for money
Sturdiness
8. MASTER COOK 3 Burner BBQ Propane Gas Grill
The Master Cook BBQ gas grill is an exceptional outdoor cooking device, equipped with 3 stainless steel burners that emit 30,000 BTUs per hour. The push-button ignition system allows for a swift start-up, while the grill's dolly outlook and two large wheels provide easy mobility. Additionally, this grill features two foldable stable shelves on either side, which are highly convenient for cooking tools and make it an excellent choice for daily family use.
The BBQ propane gas grill boasts dimensions of 46.46L x 20.87W x 41.14H inches, a length of 29.5 inches, and a weight of 48.9 lbs, rendering it ideal for outdoor use in all seasons.
An accurate thermometer on the cover makes monitoring and adjusting the cooking temperature a breeze, ensuring that your food is cooked to perfection. The grill is available in two color options, black and silver, allowing you to choose your preferred aesthetic.
Pros
Value for money
Maneuverability
Easy to clean
9. Cuisinart CGG-306 Chef's Style Portable Propane Gas Grill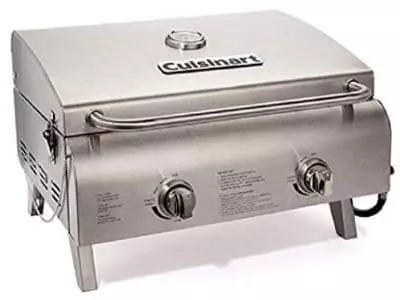 The Cuisinart CGG-306 is a highly functional portable grill designed with two burners and made of stainless steel material. This grill is user-friendly, with a quick and easy set-up that allows for seamless grilling. The CGG-306 model offers powerful burners and an electronic ignition system, with both stainless steel burners providing 20,000 BTUs, ensuring optimal grilling of your food.
With dimensions of 21.5L×19W×15H inches and weighing only 1 pound, this professional chef's style propane gas grill is a highly convenient and portable option. The integrated thermometer allows for precision heat control, while the drip tray ensures easy grease assembly and cleaning. This grill comes with a 3-year limited warranty, making it a highly reliable option for grilling enthusiasts.
Pros
Best heat output
Temperature control
10. Char-Griller E3001 Grillin' Pro 40,800-BTU Gas Grill
The Char-Griller gas grill boasts a sizable cooking area of 360 square inches, consisting of 438 square inches for grilling and 192 square inches for warming, all constructed from durable alloy steel. This heavy-duty material is fashioned into tubular steel and features dual smokestacks and a stainless steel thermometer. With an impressive heat output of 40,400 BTUs, this premium liquid propane gas grill also includes a side burner providing an additional 1200 BTUs.
The porcelain-coated cast iron construction ensures longevity, while its sleek design adds a touch of sophistication to any outdoor cooking space. This pro grill measures 48″ in height, 28″ in width, and 48″ in length, weighing 88 pounds. It is both user-friendly and easy to clean, delivering exceptional heat output for the ultimate grilling experience.
Pros
Heat distribution
Easy to clean
Best temperature control
Things to consider while purchasing the best grill under 500
When searching for a top-notch grill under $500, it is crucial to consider several key factors to ensure your satisfaction with your purchase. By doing so, you can avoid any potential concerns or worries regarding the performance and longevity of your new grill. With that in mind, here are some essential elements to keep in mind while selecting a grill for your home kitchen to enjoy the best food.
Size
The primary consideration when selecting a grill is its size, which should align with your specific needs and preferences. Opting for a grill with two burners provides greater versatility and ample cooking space. Examining the grill's surface area is essential, and a range of 450-500 square inches is typically sufficient. By prioritizing this aspect, you can ensure that the grill you select meets your requirements and provides optimal functionality.
BTUs
Fundamentally, the acronym BTUs refers to British Thermal Units, a measurement unit quantifying the heat required to raise the temperature. Specifically, BTUs are leveraged to gauge gas output, signifying how much heat a grill can generate. Consequently, selecting a grill with a broad temperature range is vital, with the highest temperature capable of reaching 700 degrees or beyond. By prioritizing this aspect, you can identify a grill that delivers optimal heat output, ensuring ideal cooking conditions for your culinary creations.
Grate material
Typically, grills feature metal grates for cooking food, with the most commonly used materials being stainless steel and cast iron. It is essential to examine your grill's material, given its critical role in the grilling process. While both materials deliver optimal performance, the selection ultimately boils down to personal preference. Considering this aspect, you can ensure that the grill you choose aligns with your desired specifications and meets your expectations for culinary excellence.
Fuel source
Gas represents an ideal fuel source for grilling, but within the $500 price range, only a limited selection of gas grills are available. Instead, most grills in this price range utilize liquid propane as their primary fuel source, while some models incorporate dual fuels capable of burning wood or charcoal.
When selecting a grill, you must consider your personal preferences and needs to ensure the fuel source aligns with your desired outcomes. Considering this, you can make an informed decision and acquire a grill that meets your culinary expectations.
Extra features
Numerous gas grills are equipped with supplementary features that simplify the grilling experience, including an automatic starter, removable upper cooking grate, and side burner. Among these features, the electronic ignition gas grill is particularly advantageous. By prioritizing this feature, users can benefit from optimal ease of use and enhanced functionality, ensuring a seamless and enjoyable grilling experience.
FAQs:
How many BTUs should a gas grill have?
As a rule of thumb, gas grills should generate 80 to 100 BTUs per square inch of grilling surface. Applying this principle, a grill with a 200 square-inch cooking area should produce roughly 16,000 to 20,000 BTUs per hour to optimize its grilling performance. By adhering to this standard, users can ensure that their grill delivers the ideal heat output to create mouth-watering culinary delights.
What temperature do you cook steaks on a gas grill?
Temperature represents a critical variable in the art of grilling, particularly when it comes to preparing different types of food. In the case of steaks, the optimal temperature for cooking ranges between 450 to 500°Fahrenheit, as this ensures an ideal level of heat penetration and distribution, leading to perfectly cooked and delectable steaks. By keeping this temperature range in mind, aspiring grill masters can elevate their cooking skills and create culinary masterpieces that will tantalize their taste buds.