What type of pot is the best for boiling water is very important because boiling water is the more basic kitchen task but most necessary. We don't usually overthink about boiling water because, after all, it's just boiling water.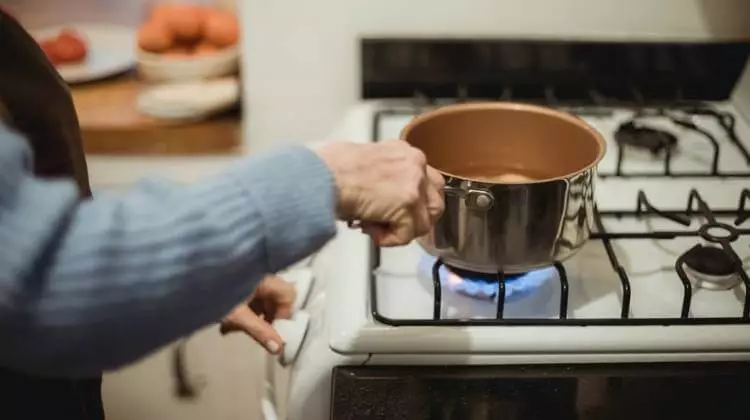 But using the right pot for boiling water can make it easier. Most of us can boil water for our daily use, like making tea, coffee, pasta, etc., whether you need to boil water to make anything or steam something. Having the right pot does help.
The best pot for boiling water would preferably be made from stainless steel and have some extra features such as marks to help you measure the water content. Also, a good lid is always great to help trap heat and boil the water faster. A good pot for boiling water is such an advantage to have in the kitchen. So in this article, we discuss some best pots for boiling water.
What is a saucepan?
A saucepan is a deep stovetop pan with a long handle and a lid. You might use a saucepan for cooking sauce or for the macaroni and cheese. A saucepan is great for cooking anything involving liquid; furthermore, a saucepan can come in many varieties like stainless steel, iron, copper, aluminum, nonstick, and many others.
The saucepan is great for stewing, simmering, making soups like pasta. A very important test often designated to saucepans is boiling water for small serving things.
1. Faberware Classic stainless steel covered straining saucepan
This pot is perfect for boiling water because of its straining lid. As well, this is a real winner for boiling pasta and other similar things. This pan is made of stainless steel material and offers rapid heating and a safe dishwasher cleanup, and it can stand up to 350 degrees.
This pan is more durable because of its stainless steel material. The best part of this is its lid because it can strain liquids or position steel in heat and flavor.
Pros
Heat distribution
Easy to clean
Durable
2. Carote 2 Quart saucepan with glass lid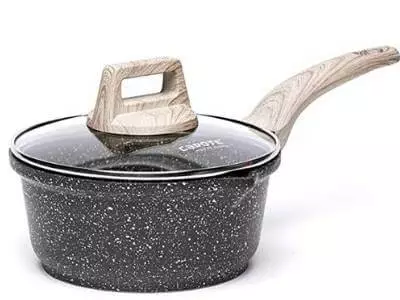 This carpet material saucepan is perfect for making soups, sauces, oatmeal, or Also for boiling water, and this pot is a stylish addition to your kitchen. This pot features a nonstick finish, a wood handle, and a granite coating. This nonstick material is made of cast aluminum which is more durable and sturdy; moreover, it is super easy to clean.
The lid and saucepan handle are too good and comfortable to grip, and the most important thing is that they stay coop while cooking. This saucepan is suitable for cooking on all stoves, including induction, heat evenly and quickly. The best part of this saucepan has a full 12-month warranty, so if you have any quality problems, you can contact and return this best pot for boiling water.
Pros
Heat distribution
Easy to wipe
Versatile
Sturdines
3. Chefman electric hot water pot
This 5.6 Quart stainless steel hot water pot features boil fry protection. Furthermore, the Chefman hot water pot has three dispense buttons under the spout for filling cups, and the auto dispense on the control panel is for quick dispensing. This electric hot water pit is a 700-watt insulated pot that keeps water warm throughout the day. The electric hot water pot is the best for parties and outdoor use.
This is very viewing so you can check how much water you are filling in the pot. This is designed with a locking lid to prevent spills as it tips over and a child safety lock dispense—also approved with advanced safety technology for long-lasting durability. It also has a one-year warranty, so you can purchase worry-free best pot for boiling water.
Pros
Durable
Lock feature
Easy to dispense
Easy to clean
4. HadinEEon Electric Kettle
This is an impressive electric kettle because it has a fast boil setting and can heat up to 1.7 liters of water to boiling in as little as five minutes. This kettle is stainless steel and has high-quality borosilicate glass that is very durable and scratch-resistant.
As well, it is very durable and detaches from the base for easy pouring. Also, its design is very sleeky and modern, which makes it a great addition to your kitchen. It also has an automatic shutoff feature for worry-free operation.
Pros
Durable
Stylish and sleeky
Roomy
Excellent heat resistant
5. Nostalgia RWK retro stainless steel kettle
Retro stainless steel electric kettle is a kettle that is very modern and stylish. This is a 1500 watt kettle that rapidly boils up to 1.7 liters of water in just a few minutes, perfect for making tea, coffee, hot chocolates, sauces, pasta, and many others. The best part of the electric kettle is that it's Syst 3m automatically shuts off once the water has reached the boiling temperature ensuring safety and energy consumption.
The kettle features a rotating base, a water level indicator window, and is stainless steel. It has a sleek, durable, and stylish stainless steel body with a chrome handle cover.
Pros
Easy to use
Easy to clean
Durable
Temperature control
6. Dezin Electric Hot Pot
This little device does a lot more than merely boiling water, So it can boil more than 1.7 liters of water at once in just a few minutes which is a great choice for cooking noodles, oatmeal, boiling eggs, heating soup, and more. It also heats multiple heat settings s including 200 watts, 600 watts and keeps warm and built-in safety features. This electric hot pot automatically shuts off when there is no water in the pot.
Pros
Easy to clean
Durable
Automatic
Heat resistance or temperature control
7. Rorence stainless steel stockpot
This stockpot is ideal for boiling large quantities of water because of its large size. The stainless steel material is very durable and resistant to rust; meanwhile, stainless steel is long-lasting and effective and will help boil water quickly. Its aluminum core provides fast and even heating resistance and retains heat energy very well. Its silicon handle is perfect, which stays cool on the stovetop while cooking.
So you can lift the pot during cooking. Also, the lid is essential, allowing you to drain it easier. This electric pot also has to measure marks on the inside of the pot so you can easily keep track of the conduct of water put on to boil. This is an essential pot to keep in the kitchen.
Pros
Durable
Heat control
Versatile
8. COSORI Electric Kettle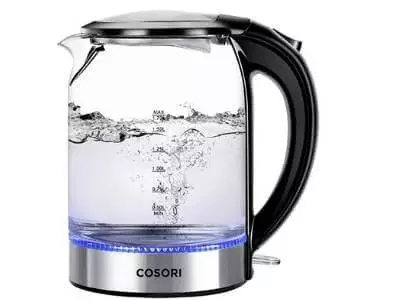 This electric kettle is on top of our boiling water pot list from Cosori because it has technologically advanced features made in California and is also made with the finest quality material, borosilicate glass which resists scratching. This electric kettle shut down 30 seconds after the water is thoroughly boiled. The water heats up quickly in 3 to 7 minutes, so a great choice to boil your water for any purpose—perfect match for tea, coffee, pasta, and much more.
In addition, its simple design looks lovely on your kitchen counter moreover excellent and trouble-free product also very durable. You noticed the blue light bottom of the kettle, which means that your water is still in the process of boiling. Its side-opening provides access when cleaning the pot.
Pros
Durable
Versatile
Easy to clean
9. T-Faltotal Nonstick stockpot
I am in love with this lovely nonstick saucepan because of its matte black finish, and nothing ever sticks to this pot. You can use it to boil water and also for making pasta, oatmeal or much more food. This pot comprises heavy-duty aluminum, which allows fast and even heats conduction, and has Durable nonstick coating on the interior and exterior for quick cleanup.
It is also has dishwasher safe, and the pot lid has a handle covered with silicon so that they stay cool on the stovetop while cooking.
Pros
Durable
Sturdy handle
Heat control
10. Avacraft saucepan
This stainless steel saucepan with a glass lid is an excellent pot for boiling water in your kitchen. What I like about this cooking pot are the markings on the interior, so I don't have to guess how much liquid is in there.
An aircraft saucepan is a specially constructed tri-ply stainless steel base with pure aluminum that avoids heat depots and distributes heat evenly. Another good feature is the holes in the lid that can be used as a strainer because of these holes in the lid you love making every kind of pasta.
Pros
Glass lid
Strainer incorporated
Durable
Buyers Guide While Purchasing Best Pots For Boiling Water
To choose the best pot for boiling water, have some considerations that one should keep in mind. All of these considerations will help you to get a reliable pot for boiling water.
Material
The first thing that one should keep in his mind while purchasing the best pot for boiling water is what the pot is made from. The material should be qualitative because different materials conduct heat differently, So the best choice of material for a pot to boiling water is stainless steel. Stainless steel pots are lightweight and durable and conduct heat evenly. So that the material is on top choice while buying the best pot for boiling water.
Pot Size
The second most important thing while buying the best pot for boiling water is its size. You must consider the pot size you need before making any decision. The pot's size depends on your need. If you only need it for one or two people, you do not need such a big pot, while if you have a large family, you must choose the big size pot for boiling water.
Cooking surface
So while purchasing the best pot for boiling water, you must see that the pot you consider can be used on your cooking surface. It could be a gas, induction, or electric stove. So that must keep in mind while making any decision.
Cost concerns
Ultimately the water boiling pot you choose needs to fit within your budget. So please choose one of them that matches your needs and also budget before making your final decision.