Occasionally, we desire to spend quality time with our loved ones by organizing a picnic or gathering. I recently made plans to grill outdoors during the summer evenings but needed help choosing an appropriate grill. Upon visiting Home Depot to explore the options, I found myself largely presented with products from two prominent brands, Nexgrill and Weber.
It led me to consider the merits of each brand, and the question arose: which is superior, Weber Grill or Nexgrill? I also inquired whether Weber was involved in the production of Nexgrill and sought to evaluate the quality of Nexgrill products.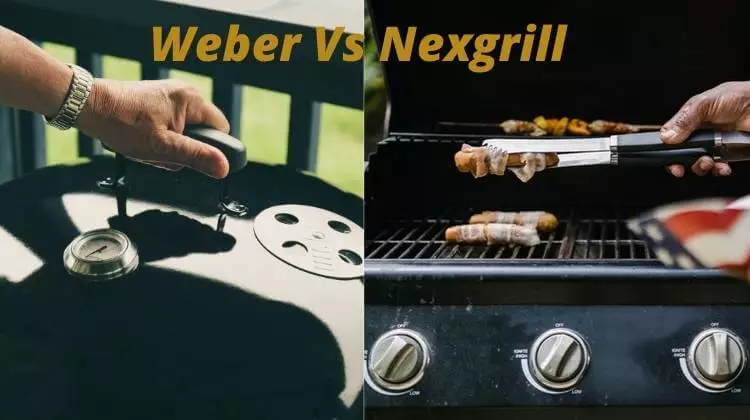 Grilling is widely regarded as a quintessential summer pastime in the United States. Should you be in the market for a new Portable Grill, Nexgrill and Weber grills comparison will serve as a useful reference. Both brands present compelling options in terms of cost and cooking capabilities. Reviewing each brand's key features and qualities, you can decide which grill best aligns with your needs. It is worth noting that both Nexgrill and Weber are highly-regarded companies that offer quality products.
Know about Weber Grills
Weber-Stephen is a company specializing in the production of grills and grill accessories. The inventor of the renowned Weber grill is George Stephen, who conceived the idea of a spherical-shaped barbecue in 1952. The introduction of the original charcoal kettle grill in the 1960s marked a turning point for the brand, propelling its popularity.
Weber continued to innovate throughout the 1970s, introducing the first gas grills and contributing to the growth of outdoor grilling as a trend. Over the years, Weber has consistently expanded its superior outdoor cooking products, including charcoal grills, stainless steel gas grills, smoker boxes, hibachi, rotisserie kits, and more.
Grill Area: Weber grills boast a generous cooking area, available in sizes ranging from small to considerably larger options.
Heat Output: A Weber grill can generate sufficient heat output to facilitate various cooking needs. Weber's larger gas grills are engineered for optimal efficiency, requiring less heat output to achieve intense temperatures ideal for various cooking styles such as searing and smoking. Several Weber models boast an impressive total heat output of up to 69,000 BTUs, underscoring their outstanding performance capabilities. This power level is a testament to the brand's commitment to providing quality grills that can easily handle any grilling challenge.
Technology: Weber has been a dominant force in the grilling industry for over 60 years. Throughout this time, the company has made significant strides in grilling technology and design, culminating in innovative features that set its products apart. These include a superior grease management system, which ensures that grilling remains a clean and enjoyable experience.
Additionally, their tuck-away warming rack provides added convenience and versatility during cooking. Together, these features help cement Weber's status as a top-tier grilling brand. These features have contributed to the brand's reputation as a reliable and cutting-edge manufacturer of high-quality grills.
Is Nexgrill A Good Brand?
Nexgrill Industries is a California-based company that manufactures stainless steel burners, heaters, stainless tool cabinets, and patio furniture. The company has been operating since 1993, producing an array of charcoal, gas, and propane grills that reflect their commitment to quality craftsmanship and design excellence.
Grill Area: Compared to other grill models, Nexgrill products tend to have smaller cooking surfaces, even in their largest and smallest grill offerings. However, their upper-end grills still provide a substantial cooking area, with a maximum of 806 square inches of surface space. This size is generally sufficient for most families or small groups, catering to various cooking needs.
Heat Output: Nexgrill, high-end grills can generate up to 57,000 BTUs, a noteworthy heat output level. However, it is worth noting that only some individuals require a grill's maximum heat output capacity to prepare their meals effectively. Therefore, the heat output capabilities of Nexgrill products are typically sufficient for most cooking needs, offering a balance between performance and efficiency.
Technology: While Nexgrill does not currently offer a smartphone-controlled grilling system, the company is actively developing infrared cooking technology that promises to enhance the flexibility and versatility of its grills. This innovative technology is set to provide an even greater level of control and precision in the cooking process, allowing users to easily achieve optimal results.
Nexgrill vs Weber Brand Comparison
A key distinguishing factor between Weber Grill and Nexgrill is their respective strengths in key areas. Specifically, Weber Grill is known for its excellent heat output system and innovative grease management capabilities. At the same time, Nexgrill is renowned for its cutting-edge infrared cooking technology that gives users greater flexibility and control over their cooking. Ultimately, the choice between these two brands will depend on the individual's needs and preferences in a grill.
Construction and Design
In the market, two types of gas grills are available, the cart-style and the cabinet-style. The cart-style grill comes in an open design with a lower shelf and at least two wheels, while the cabinet-style is equipped with a set of doors beneath the grilling station. Cart-style grills are generally lighter and more mobile, while the cabinet-style offers secure storage space and a more streamlined appearance.
Grills are typically constructed with either stainless steel or cast aluminium materials. Heavy-gauge stainless steel is considered the best option due to its durability and longevity. The cooking grates, available in stainless steel or cast iron with or without a porcelain coating, are relatively simple to replace if damaged and easy to clean.
The cabinet-style grill from Nexgrill presents an appealing option that provides ample storage space and features 304-grade stainless steel construction. However, the grilling grates of this grill are made of lower-quality metal and are coated with stainless steel. In comparison, the Weber grill features porcelain-coated cast-iron grates that facilitate easy cleaning and deliver impressive outcomes. The Weber grill is substantially sturdier and heavier than the Nexgrill grill.
Price
The cost of a grill is influenced by the size of its cooking surface and its level of durability. Premium grills come with a higher price tag, which may or may not be within our budgetary constraints. Compared to Weber's models, those made by Nexgrill are more affordable. Therefore, for individuals who place a significant emphasis on their purchasing price, opting for a Nexgrill product would be a sensible decision.
Temperature Range
Gas grills are equipped with features that allow for high-heat cooking techniques such as searing and flame-broiling. As well as low-heat settings ideal for preparing smoked meats like pulled pork and barbecued dishes. For instance, Weber grills can generate heat levels of approximately 500-550 degrees Fahrenheit when set to high and maintain a temperature of around 250 degrees on the low setting.
Conversely, Nexgrill models are associated with relatively inconsistent temperature control, as their burners cannot achieve the same high temperatures as Weber grills. Furthermore, the lightweight construction of Nexgrill models presents a challenge in maintaining a consistent heat output.
Cooking Space
For gas grilling, it is typically advised to have around 72 square inches of cooking space per person. Consequently, a cooking area of roughly 350 square inches is sufficient for a family of two to four. Weber grills feature a primary cooking surface of 450 square inches, distributed over two burners. In contrast, Nexgrill models offer a larger main cooking area of 462 square inches, including an auxiliary warming rack.
Performance
.The output of gas burners is measured in British thermal units. The main burners on a gas grill will typically give off at least 10,000 BTUs, with the side burners usually giving slightly less. Weber comes with a combined BTU output of 26,500 over two burners.
Although Nexgrill's model has a higher combined output of 60,000 BTUs, each burner gives off just 12,000. So the Weber burners are more powerful.
Weber 741001 Original Kettle 22-Inch Charcoal Grill
Brand: Weber
Material: Alloy Steel
Item Dimensions: LxWxH 25 x 22.5 x 39.5 inches
The Weber Original Kettle grill boasts exceptional durability with its porcelain-enamelled lid and bowls, which efficiently retain heat. The dampers of this grill allow for effortless and precise temperature control, while the One-Touch cleaning system facilitates easy cleaning after a long day of grilling. Up to 13 burgers can be effortlessly cooked with a Weber burger press.
The removable aluminium ash catcher ensures utmost convenience, while the dampers enable easy regulation of the temperature within the grill. The lid and bowl, which are also porcelain-enamelled, possess excellent heat retention properties and are resistant to rusting or peeling. The lid hook can be utilized to avoid placing the lid on the ground while grilling.
Weber 2-Burner Liquid Propane Grill
Brand: Weber
Material: Porcelain-enameled, cast iron
Item Dimensions: LxWxH 48 x 26 x 57 inches
The Weber Spirit II E-210 2-Burner Liquid Propane Grill in Black is also available for purchase and provides ample cooking space. Its features include porcelain-enamelled cast-iron cooking grates and a porcelain-enamelled lid. The grill has a built-in lid thermometer, a fold-down left-side table, an open cart design, a fuel gauge, and a stainless steel heat deflector. This two-burner grill is designed to fit comfortably in small areas.
Weber Q1200 Liquid Propane Grill, Titanium
Brand: Weber
Material: Aluminum
Item Dimensions: LxWxH 20.5 x 40.9 x 24.6 inches
Equipped with a stainless steel burner that delivers 8500 BTU-per-hour. The grill can efficiently heat a total cooking area of 189 square inches. Its cooking grates are made of porcelain-enamelled cast iron, while its lid and body are crafted from cast aluminium. Moreover, the grill features an easily-start electronic ignition and infinite control burner valve settings for convenient use.
Weber Original Kettle Premium Charcoal Grill
Brand: Weber
Material: Porcelain
Item Dimensions: LxWxH 39.5 x 22.5 x 27 inches
The Weber Original Kettle Premium has a built-in lid thermometer, rust-resistant aluminium dampers, and a one-touch cleaning system with a high-capacity ash catcher for effortless ash cleanup. The cooking grate can be easily adjusted to add charcoal during grilling, making it highly convenient for the user.
Nexgrill 4-Burner Propane Gas Grill
Brand Nexgrill
Material Stainless Steel
Item Dimensions LxWxH 25 x 46 x 51 inches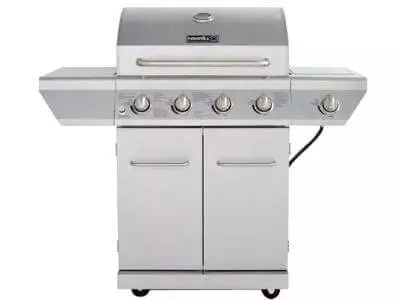 The Nexgrill Stainless Steel Propane Gas Grill offers a spacious cooking area of 644 sq. ft. with four main burners and an additional side burner. The primary grill deck features stainless steel-wrapped cooking grids with 7 mm crossbars, while the Even-Heat Cooking System ensures even heat distribution throughout the firebox. An electric ignition enables quick and effortless start-up, and an upper-level warming rack provides a convenient spot to heat buns and keep dishes warm.
Nexgrill Fortress 2 Burner Cast Aluminum Table Top Gas Grill
Brand Nexgrill
Material Aluminum
Frame Material Aluminum
The Nexgrill Table Top Gas Grill is a great addition to any home, providing an excellent alternative to firing up a large grill. Customers have expressed satisfaction with this product. Often citing its ability to eliminate flare-ups and prevent small food items from falling through the grates. It's portability and compact size make it a great tabletop option for easily cooking thick steaks and other dishes. Many customers have reported a positive experience with this product, which is available at Costco.
Weber Grill vs Nexgrill Bottom line
While both Weber and Nexgrill are reputable grill brands, a side-by-side comparison shows that Weber ultimately emerges as the superior choice. Notably, the Weber grill does not utilize infrared technology and surpasses the Nexgrill in the cooking area and heat output.
However, the ultimate decision is up to the individual buyer, and we have attempted to comprehensively compare both options. As a discerning customer, you can weigh the factors and choose the best suits your needs. With grilling season on the horizon, investing in a quality grill can be a great way to enjoy time with friends and family.