Whether you are a professional chef or want to cook at home, a sushi knife is your essential need. A knife is an important tool in the kitchen for successful cooking. However, when you go to the market to select a knife, it may be a challenging job for you. But here, we will provide some reviews and guidelines for purchasing the best sushi knife.
Japanese as a Yanagi or Yanagida traditional sushi/sashimi knife has a thin, long, sharp blade best for slicing. Two types of material are used to prepare a Japanese sushi knife, high Carbon steel and stainless steel. Most of the traditional knives used carbon steel.
This one rusts easily but has a much sharper edge. On the other hand, a stainless knife does not rust, and its hard material prevents the knife from chipping. For the sharpest knife, carbon steel with a high-quality blade is best. Furthermore, stainless steel is the right choice if you want a low-maintenance sushi knife with no rust problem.
Why Sushi Knives are Especial
Usually, sushi blades are longer than traditional metal blades. The length of the blades makes them very versatile for slicing through a variety of fish. Traditional knives are signal edges.
However, they only cut based on how you angle the blade if left-handed since most single-edged blades are made for those with dominant right hands. Sushi knives are high-quality knives and are known as sharp and efficient. However, where is the sushi knife? It means there is an experienced chef.
Types of sushi knife
Yanagiba
This special knife to perfect sushi and sashimi meets Japanese sushi cuisine's particular requirements. Yanigaba is designed for the precision slicing of sashimi. It is the best sushi knife for slicing fish.
Deba Boho
This knife is best for cutting the bones and cartilage of fish. These knives are often used by professional sushi chefs preparing fish for sushi.
Usuba Bacho
Usuba is a thin blade for cutting, chopping, peeling, and slicing thin sheets of vegetables. Let us see reviews about the best sushi knife.
1. Yoshihiro Stainless Yanagiba Japanese Chef Knife
Product Description
Item dimensions: 21.1 x 2.6 x 2 inches
Item weight: 13.6 ounces
Brand: Yoshihiro
Edge Angle: Single Edged
Grade: Hongasumi
Handle Material: Rosewood
Saya Cover: Lacquered Magnolia Wood.
This Yoshihiro sushi knife has high carbon steel sharpness, and its stainless steel edge is durable and reliable.VG stainless steel blade with HRC 62-63 extra sharpness, excellent edge retention, and stain resistance. Furthermore, the knife is highly sharp, can easily cut any fish without pressure, and can easily cut a thin slice. It also has a single-edged 9.5 inches (240mm) blade with a traditional grinder.
The handle of the sushi knife is a symbol of Japanese handcraft. However, its varnish-coated wood handle is stain-resistant and easy to clean. Overall, it is the best sushi knife from the brand Yoshihiro.
Beautiful design.
Professional look.
Stian resistant.
Reliable and smooth handle.
Cuts cleanly and beautifully with little effort.
Weight and balance are excellent in hand.
Little pricey
Not recommended for dishwasher cleaners.
2. Yoshihiro Yanagi sushi sashimi White Steel knife
product description
Size: 10.5″ (270mm)
Blade Material: White Steel
Edge Angle: Single Edged
Grade: Hongasumi
Handle Material: Shitan Rosewood
Saya Cover: Lacquered Magnolia Wood.
Manufacturer: Yoshihiro
The handmade Yoshihiro Hongasumi knife is crafted by skilled artisans that create high-quality knives. On a scale of 62-63, the white steel knife is forged to create a beautiful shape and is polished with attention. The Yanagi Kiritsuke is a long-slicing knife designed to slice thin fish slices for sushi and sashimi. It is an essential traditional Japanese knife and a powerful component in many chefs' repertoire.
The Yanagi Kiritsuke is slightly heavy than the Yanagi, with a wide blade and a thicker spine. The sword tip helps balance the knife's weight and is recommended for chefs interested in a Yanagi but prefer a heftier knife. This best brisket knife preserves the integrity and freshness of the slice during long uninterrupted strokes. A protective wooden sheath, Saya protects the blade and adds to its appearance when not in use.
The knife features are beautiful, with 10.5 inches single-edge high carbon steel blade and a traditional Japanese handcrafted D-shaped handle. The Urasuki and Shinogi allow the blade to cut food with minimal damage to the surface and cells, therefore not spoiling the texture and taste.
The Uraoshi is the thin, flat rim that surrounds the Urasuki and enhances the blade's strength at its otherwise vulnerable edges. This traditional Japanese knife requires care. Do not use it on bones, nutshells, and frozen foods. Steel can oxidize if not properly maintained. Keep dry and oil regularly to prevent oxidation.
Pros
Handcrafted beautiful design.
Smooth handle.
Well, balanced.
Sharp.
Reasonable price.
Cons
It can be oxidized without proper care.
3. Dalstrong Chef knife-9.5 inches
Product Description
Dimensions: 14.72 x 1.81 x 0.09 inches
Item weight: 7.1 ounces
Manufacturer: Dalstrong
Material: HIgh-Carbon AUS8 Steel
The Dalstrong Phantom is a series of the best knives. These Series knives are specially engineered for coring, peeling fruits and vegetables, and slicing shallots, herbs, or garlic.
Moreover, it has a precious forged blade with a premium Japanese AUS-8 at 58 HRC. Best quality chromium added to steel for stain resistance. This knife has a full range of incredible robustness. Excellent resilience blade and superior edge retention.
Furthermore, the blade is designed for durability and flexibility. The polished spine is to facilitate a comfortable grip as well. The blade's spine is hand polished, making the pinch grip comfortable. The traditional Japanese D-shaped handle is designed to tuck into hands more superior hand control, comfort, and agility.
Pros
HRC 58+ Hardness.
Black Pakkawood Handle.
Hand-Sharpened and Polished.
Nitrogen Cooled for Enhanced Hardness.
Do not rust quickly.
Cleanness is easy.
Reasonable price.
Nice handle. Perfect for the handgrip.
Lifetime Warranty.
Cons
For beginners may, the knife may be hard to use.
A little too light for harder cutting.
4. Cangshan J Series Japanese Sashimi Chef Knife
Product Description
Size: 8 inches.
Item dimensions: 16 * 4.3 * 1.5 inches L*W*H
Item weight: 1.2 pounds
Handle: African Blackwood.
Brand: Cangshan
Manufacturer: Cangshan Cutlery Company
The J series is a symbol of beauty and craftsmanship. The handle is made from rich ultra-dense African blackwood that provides a natural or firm pinch grip. The knife is well-balanced and great for grip and hold.
Furthermore, a magnetic American wood Saya-style sheath protects the knife between uses. This knife is well-balanced and seamlessly crafted for heavy kitchen use and easy cleanup. This knife's material is processed by folding 67 layers of high-carbon steel to ensure strength, durability, and stain resistance.
However, the knife has a natural look and can use for long-duration cutting and preparing food. This best sushi knife is developed under six heat trials to ensure quality for heavy kitchen work. Moreover, the quality and craftsmanship ensure the brisket knife's performance, with the design focused on quality and optimal comfort.
pros
Beautiful design.
Heat treatment.
Handcrafted.
Sharp.
5. SETO Japanese Chef Knife
Product Description
Total length: 210mm
Item deminsio: 14.3 x 2.3 x 1 inches
Blade thickness: 1.2mm (0.05″)
Item weight: 1.76 ounces
Blade: 8A Chromium-Molybdenum Steel
Handle Black packer wood with Bolster
The Seto traditional series knife is also suitable for professional chefs looking for fine Yanagiba. The blade is forged VG-10 stainless steel core Damascus 33 Layers. It has a traditional D-Shape handle to fit the balance during cutting. The handle gets wet and retains the grip even better than when dry.
Furthermore, the edge of the knife is very sharp. Seto company has a great history of making a sword and then decided to make knives. However, Yashi Seto trained top sword makers to make knives. And now make beautiful knives for professional chefs and cooks at home in Japan.
The Santoku is a multi-purpose knife. Seto knives are high-quality blades of forged steel at a reasonable price. So, Japanese knives are better than German knives.
Pros
Beautiful design.
Rust resistant.
Handmade.
Reasonable price.
Reliable and durable.
Multipurpose.
Awesome handle grip.
Cons
Requires cleanness after use.
6. SETO Japanese Thin Blade Knife
Product Description
Item Dimensions: 13.1 x 2.3 x 1 inches.
Item Weight: 1.76 ounces.
Material: VG-10 stainless steel.
Blade material: Alloy steel.
Manufacturer: Samurai market.
The handmade Seto Japanese chef knife is the best quality blade forged steel. Thin and long blades are designed for meat cutting. Seto traditional knives suit professional chefs looking for Yanagida or Deba Hocho.
However, the knife requires less minuteness than a high carbon-made Hocho. The blade is forged VG-10 Stainless Steel Core / Damascus 33 Layers HRC 60.
Furthermore, the handle is a traditional D-shaped sandalwood w/ plywood bolster. Handle grip and balance is very well during cutting. The sharpness of the blade is beautiful and requires less pressure during a cutting slice of fish.
This world-famous best sushi knife has a high-quality blade sold at a reasonable price and is suitable both for professional chefs and for use at home. Stainless steel makes it sharp and rust-resistant. Stainless steel blades clean easily. Make sure to clean water and store it.
Pros
Handmade.
Rust resistant.
High Quality.
Sharp.
Cleanness is easy; just hand wash.
Cons
Requires cleanness after use.
7. Yoshihiro VG-10 46 Layers Japanese Chefs Knife
Product Description
Size: 8.25 inches (210mm).
Item Dimensions: 14 x 0.06 x 1.75 inches.
Item Weight: 4.8 ounces.
Handle: Octagonal
Blade Material: VG-10 stainless steel
Handle Material: Ambrosia Wood or Shitan Wood
Saya: Magnolia Wood Saya Cover
Manufacturer: Yoshihiro Cutlery
Made in: Japan
The VG-10 Hammered Damascus Series is a perennial best-seller, performance, beauty, and excellent value. Traditional Gyuto is a Japanese chef's knife with a curved blade that smoothly rocks back. It also has an extended tip for quick chopping that can be used to cut meat, fish, and vegetables. 
Furthermore, Gyuto is a beef sword initially used to cut meat in Japan. The Gyuto is the most essential of all knives a cook can have. Forty-six layers of Damascus VG-10 are proudly made in Japan and forged and hammered with 46 layers of steel in the Damascus tradition with a VG-10 Core.
The hammered blade eliminates friction and keeps food from sticking to the edge. This knife has a traditional Japanese Wa-style handcrafted Octagonal handle that is lightweight.
A wooden sheath, Saya, is included, which protects the blade and adds to its appearance when not used. The knife of Yoshihiro is handcrafted by master artisans that create unique art. However, Yoshihiro is the best sushi knife under 200 for professional chefs or at-home use.
Pros
Best quality.
Stainless steel.
Stain Resistant.
Easy clean.
Handcrafted.
Double-Edged.
Sharp Blade.
8. Hiroshi Sushi Knife 6.5 inches
Product Description
Item size: 6.5 inches
Dimensions: 3.5 x 13 x 3.5 inches
Item Weight: 2.6 ounces
Blade material: Carbon steel
Manufacturer: Hiroshi
The history of Hiroshi craftsmanship dates back to the 12th century, when an ancestor became a swordsmith for the emperor, painstakingly marking a sword with the monarch's symbol. Hiroshi prepares classic sushi/sashimi chef's knives. It can use for slicing, fish, and general-purpose in the kitchen.
The premium sashimi chef knife is processed in 40 steps, making it hand-assembled and sharp. The chef knife blade's material is high-carbon stainless steel, which makes it ultra-hard and stain-resistant. Moreover, this sushi knife has an ultra-light wood handle due to is lightweight and easy to carry and use. The Hiroshi Nagamoto Kitchen knife is hand-forged and Handcrafted.
The knife is very sharp, and you can slice & dice very quickly. Its handle is beautiful and also has a grip very well. Its food doesn't get stuck and has a good grip. However, the Hiro Santoku is the classic sushi and sashimi knife chefs worldwide use to prepare sushi and sashimi.
Pros
Forged steel blades.
Hand sharpened.
Hand-assembled.
Lightweight.
Ultra-hard high carbon steel.
Cons
Require cleanness after use.
9. Seki Gold Kotobuki St Sashimi Knife
Product Description
Item Dimensions: 14.92 x 1.97 x 1.18 inches
Handle length: 13.9 cm
Blade length: 24 cm
Item Weight: 5.6 ounces.
Blade material: Molybdenum Vanadium Stainless Steel
Brand: Kai Brand
Color: Black, silver
Manufacturer: Kai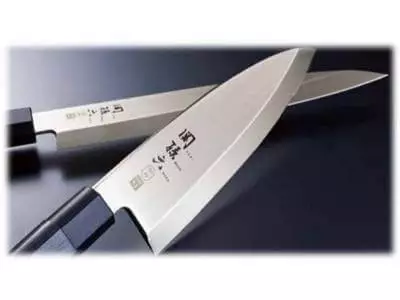 This KAI Seki Magoroku Kinju AK-1106 Yanagiba with a blade length of 24 cm is best for right-handers. The knife is for fish and meat and has a heavy blade suitable for cutting bones. The Japanese V-cut and blade hardness of 58 (+-1) HRC give them extra durability. Due to the long blade that does not crush the delicate material, the width is narrow at peak thin.
Furthermore, hard stainless like "molybdenum vanadium steel", is rust-resistant and sharpens the knife. It can easily be cleaned. The handle's material has excellent strength, and the wood used strengthens its high octagonal fit. As well as, the handle and blade have high durability.
The material of the blade is molybdenum vanadium stainless steel cutlery Cap/nylon heat-resistant temperature of 90 degrees. The laminated wood is strengthening the Country of origin, Japan. However, this sushi knife is best for beginners.
Pros
High-quality material.
Sharp.
Rust resistant.
Reasonable price.
Cons
Not suitable for cutting with the weight of the knife.
10. Over All Best: Tojiro DP Gyutou
Product Description
Item Dimensions: 36 x 6.5 x 2 inches
Blade Height: 1.7″
Blade Length: 8.2″
Item Weight: 4.5 ounces
Blade material: VG-10 Stainless Steel.
Handle Material: Reinforced Laminated Material.
Brand: Tojiro.
Tojiro DP Gyutou is the best sushi knife for both left and right-hander. The handle of the blade is made of Eco wood, which is more water-resistant than natural wood handles. Moreover, the Tojiro DP series features a full-tang and 3-ply clad construction with a core of VG-10 high-quality steel encased by two highly rigid and rust-resistant stainless steel layers.
However, this sushi knife under 100 is the best kitchen item for peels, trims, slices, dice, chops, minuses, vegetables, fish, meat, etc.
Pros
Full Tang.
Stain-resistant.
Both for left and right-hander.
Reasonable price.
Durability.
Very Sharp.
Hi-Quality VG-10 Steel.
Craftsmanship.
Low Maintenance.
Excellent value.
Coms
The handle is not as high quality as the blade.
Aesthetics are not on par with quality.
11. Kessaku Chef Knife
Product Description
Item Weight: 6.4 ounces
Item deminsion: 13 x 0.75 x 1.75 inches
Blade material: Steel, stainless steel, carbon
Handle material: Pakkawood
Blade Edge: Plain
Brand: Kessaku
The Samurai series, Kessaku knife is suitable for all your cooking needs Kessaku Professional knives are well suited to tackle all your culinary needs. This left-handed sushi knife is handcrafted by a highly trained technician with the best material. Moreover, it is designed in Japan to fulfil kitchen needs. The blade is constructed with high carbon 7CR17MOV Stainless Steel, has a 58+ Rockwell hardness, and is very resistant to corrosion and rust.
Furthermore, the smooth, comfortable grip G10 glass fibre resin handle offers superior cutting strength. The Pakka Wood handle is Heat, Cold, and Moisture resistant and has a full tang for added strength. The Forged, Razor-sharp Blade is hand sharpened by a 16° angle per side. It requires less effort to cut. This beautiful design blade is well-balanced.
However, it also has a beautiful design box with a magnetic enclosure. Store it in an elegant box, and a Kessaku cleaning cloth will help clean it. It is a great present for Birthdays, Wedding anniversaries, Mother's Day, Father's Day, Christmas, Chefs, House Warming, and so much more.
Pros
Handcrafted.
Rust resistant.
Full tang.
Well, balanced.
Aesthetics.
Sharp.
Cons
The blade may be brittle.
12. Best choice: Vestaware kitchen knife
Product Description
Item Dimensions: 14.96 x 3.35 x 1.38 inches
Item Weight: 1.15 pounds
Blade material: High Carbon Stainless Steel
Color: Silver
Blade Edge: Plain
Size: Chef Knife
Brand: Vestaware.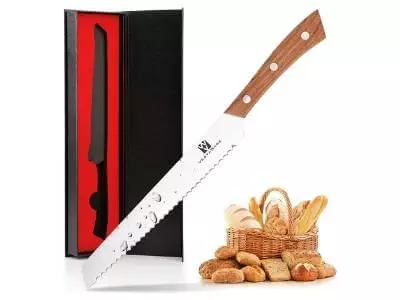 This Vestaware kitchen 8-inch chef knife is designed for cutting, chopping, slicing, mincing, and dicing fruits, vegetables, fish, meat, bread, and sushi. So, the extremely sharp knife is suitable for home and professional use. Fulfil the cutting needs of every family and chef.
Furthermore, a high-quality carbon stainless steel blade provides maximum sharpness and edge retention. The steel contains carbon, maintains its functionality, and boosts its sturdiness. Its ultra-sharp Edge – With a unique HRC (Rockwell Hardness) of 58-60, our chef knife German steel will stay sharp for much longer.
Moreover, the blade also includes chrome, which provides a glossy finish that will not fade or tarnish after using it for a long time. The beautiful handle made of G10 material is highly impervious to heat, cold, moisture, and impact, with military-grade strength and life-long durability.
However, the elegant knife also has a great gift box to store and protect from damage. A Vestaware kitchen knife is a beautiful gift for those who want to cook.
Pros
Unique Design.
Good handle.
Multifunctional.
Sturdy handle.
ProsHigh-quality carbon.
Stainless steel.
Flexible and Durable.
Reasonable price.
Easy care.
Cons
Require cleanness after use.