Cleaning pf everything is very important in our life. So we use different cleansers to clean different things. We are also very conscious about the cleaning of our home floor. If the surfaces in your home are hard such as tile, linoleum, laminate, or hardwood, it is very painful to clean them. Swiffer vs. Bona these two are cleaner for the hard type of floor.
Our life is very busy, so we are looking for a quick way to get dust and other debris off the floor. There are different types of cleaners available in the market. But for a hard surface, Swiffer and Bona both are in the fashion of cleaning products. They have very powerful cleaning solutions and mops. Both are high-quality, and it comes to cleaning floors keeping the look, quality, and glaze intact.
Swiffer vs. Bona
Swiffer vs. Bona come with different features; we try to describe them one by one, which will help decide which are better than the other. We will try to discuss all the differences possible, the look, the features, and the performance. When we talk about Bona and Swiffer, both are the market leaders in hard floor cleaning and are very effective, easy to use, and affordable floor mops.
Fortunately, floor mops have expanded, and Swiffer and Bona are making it more convenient to clean your floors. The Swiffer WetJet and the Bona Hardwood Floor Spray Mop are new styles of floor mops as spray mops that combine cleaning solutions into the mop and offer you to spray with the press of a button.
These Spray mops will allow you to clean your floors without the hassle and mess of a traditional mop and bucket. Both are known for making flat mops to clean hard surface floors. These two come in two main flavors, dry and wet. The wet flavors have a sprayer to spray the cleaning solution on the floor.
Differences between Swiffer WetJet vs Bona Hardwood Floor Spray Mop
The main differences between Swiffer and Bona are that the Bona mop dispenses cleaning solution more evenly than the Swiffer WetJet. The head of the bona mops is wider, making it easier to clean a large area but a bit difficult to navigate in small spaces; conversely, the Swiffer mop is congested.
Swiffer's mop pads are not reusable after each use; in contrast, Bona's spray mop comes with reusable microfiber mop pads. Bona's mop is a bit more expensive, but Swiffer's mop pads are disposable, so we have to pay more for the long use.
Swiffer WetJet Hardwood and Floor Spray Mop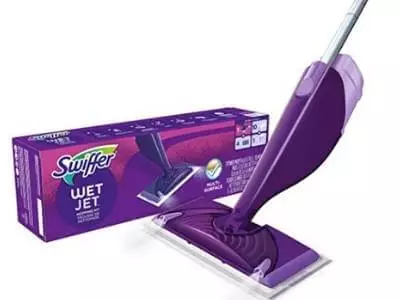 Swiffer WetJet Floor Spray Mop provides you with an effective way to clean any floor of your home. It comes with a unique dual nozzle sprayer, which dissolves tough messes. Its cleaning solution dissolves the dirt and cleans it from the floor. The absorb lock strip helps in trapping dirt grime deep in the pad. Its cleaning solution loosens dirt and lifts it off the floor, pulling dirt and grime into the WetJet pad and locking it away.
Designed allow you a great clean as a hardwood floor cleaner, laminate floor cleaner, and tile cleaner. The floor mop is also safe on all finished wood floors, but not for unfinished, oiled, or waxed wooden boards or non-sealed tiles because they may be water sensitive.
Bona Hardwood Floor Premium Spray Mop
Bona Hardwood Floor Spray Mop is safe for all unwaxed, unoiled, polyurethane finished wood floors. Besides, the extra-large mop head cleans faster and ready-to-use Bona Hardwood Floor Cleaner. It has a durable and lightweight design with a secondary grip and flexible rubber corners.
Bona Microfiber Cleaning Pad is designed for effective cleaning with a dual-zone cleaning action and reveals the natural shine of your floors. It also comes with a 34oz refillable cartridge filled with Bona Hardwood Floor Cleaner and for conveniently washable microfiber pad. So it Cleans up hardwood floors effectively by removing dust, dirt, and grime, making your floors beautiful. The extra-large mop head gives you quick and effective cleaning, and the flexible rubber corners protect baseboards and furniture from scratches.
Use of Bona mop cleaner
Before using the Hardwood Floor Spray Mops, vacuum or sweep any loose dirt and debris; you should know how they work. First, set up the Bona spray mop, and snap together the pole, handle, and mop head. Put the cartridge with the cleaning solution into place and fix the microfiber pad to the bottom of the mop head. When it is set up, you mop and then use the trigger in the handle to spray the solution. For working,
The spray of this mop doesn't need any battery or power source because it works with air pressure like a spray bottle. The amount of spray depends on how dirty the floors are, but you only need to spray it one or two times every few feet. After wiping the solution, you do not need to rinse the floors with water.
Use of the Swiffer WetJet
First, you have to set up the Swiffer WetJet, slide the poles together, and secure them. It needs batteries to work; slide open the battery compartment and install the 4 AA batteries that come with the mop. Fix the mop pad to the bottom of the mop head and plug the solution bottle into the mop. There are arrows on the bottle which show you how to connect it rightly.
Now press the button on top of the handle to spray the solution and mop away. Likewise, Bona, first, you need to remove loose dirt and debris before using the Swiffer WetJet.The Bona recommends hardwoods only; the Swiffer WetJet is compatible with many surfaces, including wood, ceramic tile, laminate, and vinyl.
Which one is better in performance?
After testing them head-to-head on several floors with varying cleanliness levels, we can tell you about their performance. We found two critical differences between the Bona and Swiffer spray mops that impact performance.
How each mop sprays the cleaning solution.
The material of the mop head.
When we use a bona spray mop with the cleaning solution, it is wide and evenly sprayed, so every inch of the floor gets a proper cleaning. When you spray the cleaning solution with the Bona mop, it comes out wide and evenly, ensuring every inch of the floor gets a proper cleaning.
While the Swiffer WetJet sprays, the cleaning solution is narrower than Bona, similar to a water gun, making it difficult to distribute the solution throughout the floor evenly. The Bona mop head is made out of microfiber cloth, which has become a trendy cleaning fabric. Microfiber has electrostatic qualities that attract dust, dirt, and allergens.
As a bonus, it is ultra-soft and delicate on surfaces and ideal for cleaning wood floors. The Swiffer WetJet mop pads are disposable and only for single use. But it has an "Absorb and Lock" strip, which is essentially a textured stripe down the middle of the pad that helps lock in dirt and grime and more effectively clean your floors.
Pros and Cons of Swiffer WetJet
Pros
It has a Small mop head to navigate in small, hard to reach areas easily
Lightweight than the Bona mop
Work on multiple surfaces, including wood, ceramic tile, and laminate.
It comes with convenient disposable mop pads
Spray nozzles have lights that are very helpful for cleaning dark corners
Cons
Needs batteries
Very expensive for long-term use due to replacement pads and batteries
Sprays too narrow
Pros and Cons of Bona Hardwood Floor Spray Mop
Pros
Large mop head that makes it easy to clean large areas
The microfiber mop pad is reusable that is highly effective at cleaning hardwoods
Spray functionality divides cleaning solution evenly
Does not require batteries
Rubber corners to prevent damage to furniture and baseboards
Cons
Large mop head that makes it more difficult in small areas
Not so convenient as the Swiffer since you have to wash the microfiber pad
More expensive than the Swiffer WetJet
Only work on wood floors
Swiffer vs. Bona Bottom line
Bona and Swiffer have been successful in the floor cleaning and maintenance market. Besides the mop, you will also need to invest in extra cleaning pads for the Bona. However, these cleaning pads are washable and reusable, making the Bona an eco-friendly solution.
With the Swiffer, you can purchase and use disposable cleaning pads in wet or dry; you can also basically shove anything you already have on the end of a Swiffer because of the way the cloths attach to it. We hope our review of popular floor cleaning products helps you make the best decision. If you want the convenience of disposable cleaning pads, Swiffer is the way to go.
On the pricing side, Bona is less expensive in the long run. Swiffer can purchase and use disposable cleaning pads in wet or dry. Bona can clean large open areas, like rooms and hallways. So both are the best choice for Bona vs. Swiffer; however, they have several different features.