Chicken yakitori is a very easy Japanese grilled recipe which served on skewers. The Yakitori is Japanese skewered and grilled chicken that can use approximately 30 different chicken parts. In this recipe, we marinate chicken parts in a savory-sweet sauce of ginger, sake, soy sauce, garlic, and a little touch of brown sugar. We can also use honey as a substitute for brown sugar.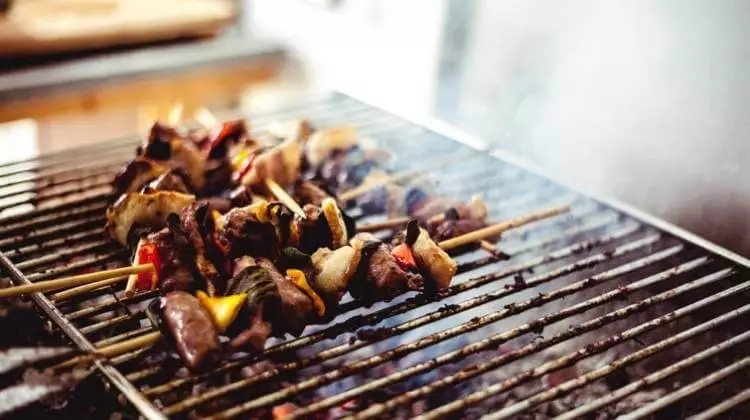 You can serve it with sauce, a fresh green salad, and a rice pile. The meat is cooked over a hot barbecue grill. So you can say it is a quick appetizer for a crowd or dinner.
What is yakitori mean? The yakitori means directly grilled chicken, describing good times and happy hours in Japan.

chicken yakitori grill Recipe
Ingredients of yakitori chicken skewers:
1. 1 pound chicken meat (livers, thigh, gizzards, or boneless)
2. Half a cup of dark soy sauce
3. Qatar cup mirin
4. Two tablespoons of dry sherry
5. One tablespoon of brown sugar you can also use honey
6. Two smashed garlic cloves
7. Half teaspoon of grated fresh ginger
Preparation of yakitori chicken
Cut chicken into small equal pieces and place in a shallow dish.
In a small saucepan, put soy sauce, two spoons for starving, mirin, sherry, brown sugar or honey, garlic paste, and grated ginger, and cook for some minutes, until thickened.
Now put the remaining sauce in the chicken, cover it and keep it in the refrigerator for up to 4 hours. If you use wooden or bamboo skewers, soak them in water for half or one hour.
Preheat your yakitori grill, thread chicken pieces onto skewers, and grill. Turning halfway, grill different parts in different for about 3 minutes for livers,6 minutes for thighs, and 10 minutes for gizzards.
Serve drizzled with yakitori sauce and garnished with a green salad and rice pail.
What to serve with chicken yakitori? You can serve it with salad, Broccoli grilled, and different sauces.
How To Make Tare?
Put the mirin, soy sauce, sake, water, brown sugar, and the green part of 1 scallion in a small saucepan, and boil them over high heat.
After 1/3 cup remaining, reduce the heat to low and simmer, uncovered until the sauce is 1/4 left. It will be ready in 30 minutes.
Keep it at room temperature for cooling. The sauce will thicken and give a glossy shine after cooling.
Put only the sauce in an airtight jar and store it in the refrigerator for up to 2-3 months. Serve it with your favorite chicken yakitori.