Do you like the Chicken Tempura Roll delicacy? It is delicious and simpler to make you think. Yes, of course, it is very easy; you need an inexpensive bamboo mat and sticky rice for chicken tempura rolls. You can impress your friends when you serve this delicious treat. Especially for those who love sumptuous sushi. So everyone can prepare one in their kitchen in easy-to-follow steps. Whether it is a snack for your guests or a normal meal, you will not go wrong with a chicken tempura roll sushi.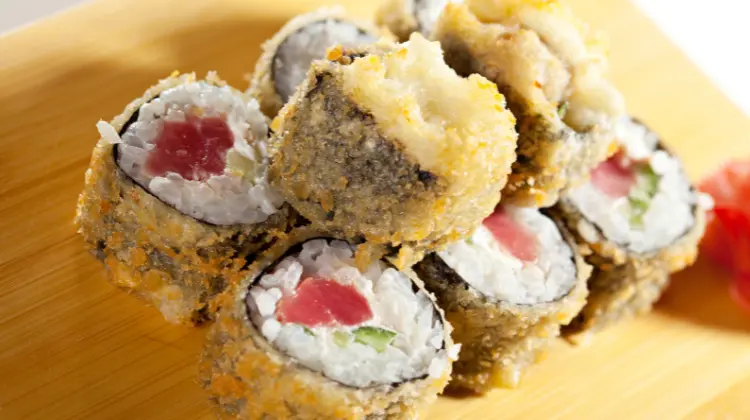 Tool for making Chicken Tempura Roll
Saucepan
Sharp knife
Plastic wrap
Cutting board
A large bowl
Bamboo mat for rolling the sushi
How to make Chicken Tempura Rolls Recipe
Ingredients
Sushi rice
Rice vinegar
Sugar
Teaspoon salt
Chicken tenders
Thawed orange juice
Sodium soy sauce
Minced fresh ginger
Crushed red pepper flakes
Sesame oils
Sliced almonds, chopped and toasted
Onions only have a green portion
Sweet red pepper, julienned
Navel orange, peeled, sectioned, and cut into thin strips
Chicken Tempura Rolls Recipe
Preparing the rice
In a large bowl of cold water, Wash the rice, rinsing again and again until the water is clear.
Now, shift the rice into a big saucepan.
Add water to the rice and leave it for 30 minutes.
Cook the rice on high heat until it comes to a boil.
Low the heat and boil them for 15 to 20 minutes or until the rice absorbs the water.
Cover them for about 10 minutes.
Put in a small bowl, mix the salt, sugar, and vinegar, and stir until the sugar is dissolved.
Transfer the rice to a large shallow bowl, then sprinkle it with your vinegar mixture.
Use stir the rice in a dividing motion to cool it with a wooden spoon.
After that, cover it with a damp towel to keep it moist.
Preparing the chicken
Bake chicken according to package directions.
Let it cool.
Cut the baked chicken into long thin strips.
Mix in a large bowl, and combine the juice concentrate, soy sauce, ginger, pepper flakes, and oil.
Keep aside ½ cup of this mixture for serving.
Put the chicken slices into the remaining juice mixture, and toss to coat evenly.
Making Chicken Tempura Rolls
Cover the sushi mat with plastic wrap.
Spread almonds in an even layer over the plastic wrap to a 9-in. x 6-in. rectangle.
Moisture your hands with the reserved vinegar mixture and press rice in a thin, even layer over the almonds layer.
Set a small amount of chicken mixture, green onion, red pepper, and orange strips.
Holding the bamboo mat, roll the prepared material on it, and be careful to enclose the filling with rice.
Use the mat to help you squeeze the roll into a compact log.
When the tempura roll is set, remove the mat.
Cut each into 1-1/2 in. slices.
Serve with reserved sauce.
What are the Side dishes to serve with Chicken Tempura Roll?
To enjoy more your chicken tempura roll. You can serve it with these side dishes Chicken Popcorn, Kushiyaki, Brussels sprouts, Beef Stroganoff, Dumplings, and Pho Soup. If you want to give it a sweet touch, then try it with Nutty Buddy ice cream, Chocolate covered bananas, and Tempura cheesecakes.
How to store Chicken Tempura Roll Sushi?
Since you do not use raw meat in a chicken tempura roll sushi, you can store it for a long time, but not too much because its taste can change after some time. Besides, the rice will become harder, and the sushi taste foul. If some chicken tempura roll sushi is left, keep it in the fridge. Carefully wrap the pieces of chicken tempura rolls separately in plastic wraps. Please put it in a container and cover with an airtight lid, and refrigerate it for up to 24 hours.
Nutrition Value of Chicken Tempura Roll
Cholesterol 32 mg | Dietary fiber 0.4g | calories 3g | Total Carbohydrate 11g | Iron 6% | sodium 134mg | Calories 116 | Saturated fat 0.4g | Fat 1.5g | Potassium 113mg | Sodium 344 mg | Protein 13g.
How a chicken tempura roll sushi differs from raw meat sushi?
The sushi is made with raw meat, while in shrimp tempura roll or a chicken tempura sushi roll is made with cooked meat. Besides, raw meat is not the best for pregnant women and children. Uncooked meat can be a source of poisoning food from ingesting it. A chicken tempura roll sushi does not contain nori seaweed in the ingredients, like sushi.
FAQS
What is a chicken tempura roll made of?
The chicken tempura rolls are made with chicken tenders and sushi rice. Chicken tempura rolls are super healthy meals for all days of the week.
What is a tempura roll?
Tempura Rolls have rice outside around a sheet of nori containing tempura fried shrimp and vegetables like avocado and cucumber.
Conclusion
A chicken tempura roll sushi is a very healthy meal because chicken is full of protein. Rice and almonds are organic foods with a rich source of healthy fats and vitamin E.